« Uniti per la Musica… | Main | Agorà… »
By Redazione Musica | febbraio 28, 2010
La Note Bleue. Marionette nella dimora del Momento Beato
Il 20 novembre 2009, il Cinema Teatro "Il Nuovo" (La Spezia) ha ospitato la proiezione de "La Note Bleue", visionaria biografia di Fryderyk Chopin firmata Andrzej Zulawski. In prossimità del bicentenario della nascita del musicista polacco (1810 -2010), la Società dei Concerti onlus della Spezia, in collaborazione con Giordano Giannini, dedica rispettosamente questo appuntamento e questo saggio breve quali sforzi culturali.
Anime cupe, raccapriccianti metamorfosi in presa diretta, pallide streghe dai corpi impazienti e moderni inquisitori (consorti?) dallo sguardo di inquietante fissità: a cominciare dall'esordio con Diabel (1972), il polacco Andrzej Zulawski ha dimostrato di non saper cedere facilmente a compromessi, perdendosi, talvolta, nel dedalo del risibile; contaminando, durante la sua carriera, le fonti patrie (la prosa di Jaroslaw Iwaszkiewicz, in particolare) con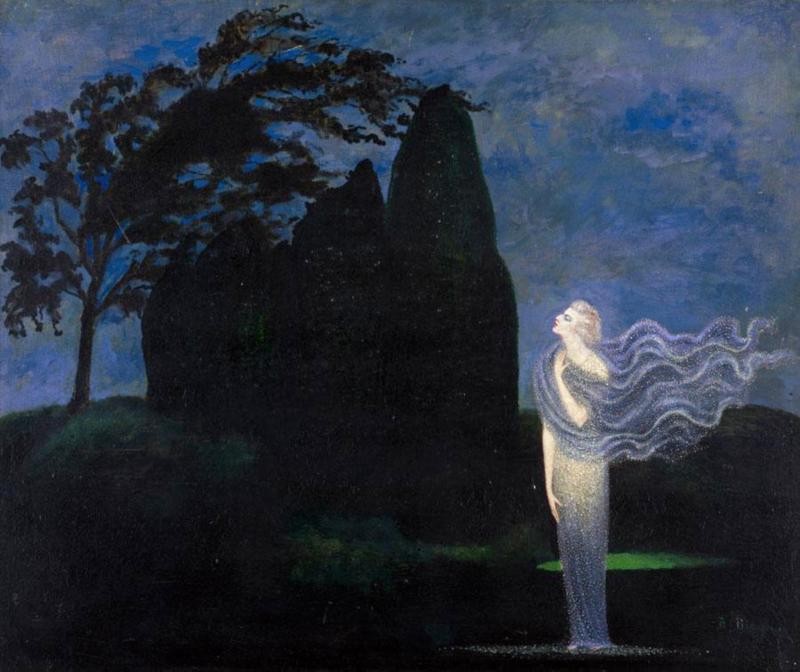 le suggestioni più disparate: Fëdor Dostoevskij (L'amour braque, La femme publique), Raphaëlle Billetdoux (Mes nuits sont plus belles que vos jours), H. P. Lovecraft (Possession). Per lungo tempo la critica italiana "ha chiuso un occhio"; dopo tutto Zulawski è poco più di un surrealista giunto in ritardo, l'ennesimo "giovane profano" andato in estasi nel momento in cui, sul grande schermo, sotto il chiarore lunare, un rasoio ha tagliato l'Occhio dello Spettatore (Un chien andalou di Buñuel). Immagino non sia un caso che di lì a poco (o contemporaneamente) escano in sala titoli quali Valerie a týden divu (1970) di Jaromil Jires, Macbeth (1971) di Roman Polanski, Fando y Lis (1972) di Alejandro Jodorowsky, Blanche (1972) di Walerian Borowczyk, La Rose de fer (1973) di Jean Rollin.
Ma con Chopin i giochi sono finiti. Un monumento nazionale non si tocca – questa lezione la imparerà bene Tony Palmer nel 1999 con il controverso e sfortunato The strange case of Delphina Potočka – a meno che non se ne proponga un'immagine "media", che va bene a tutti. Se escludiamo un "cine-romanzetto" del 1934 con Jean Servais, fino agli anni '90 le principali interpretazioni della vita di Fryderyk Chopin erano sostanzialmente due: A song to remember (1945) di Charles Vidor – ben diretto ma invecchiato male – e Impromptu (1990) di James Lapine, con Hugh Grant e una strepitosa Judy Davis nei panni di George Sand. Entrambe le pellicole presentano un Chopin come il grande pubblico se l'aspetta: malinconico, patriottico, tenero amante malgré lui. Intanto, Andrzej Zulawski ha regalato a Sophie Marceau, compagna nella vita, una seconda giovinezza con Mes nuits … dove la diva parigina si separa definitivamente dal personaggio di Vic, adolescente alle prese con i primi turbamenti, per mostrarsi in tutto il suo naturale splendore. L'occasione di rispondere al successo di Impromptu è troppo allettante per il Nostro polacco irrequieto: così nasce La Note Bleue (1991). Siamo nel 1846, gli eventi si dipanano nella cornice della campagna di Nohant, più precisamente in una villa, residenza estiva della scrittrice George Sand (Marie-France Pisier, ex musa di François Truffaut). Alcuni illustri ospiti sono appena scesi da una carrozza: la contessa Laure Czosnowska (Grazyna Dylong), Adalbert Grzymala (Roman Wilhelmi), il pittore Eugène Delacroix (Féodor Atkine). La padrona di casa li saluta calorosamente per poi allontanarsi insieme allo scrittore russo Ivan Turgenev (Serge Renko): questi deve prendere congedo. I due discutono a lungo: George (Aurore, in realtà) gli confida che quando era bambina correva nel bosco a invocare una divinità ermafrodita battezzata per l'occasione con il nome di Corambé. Turgenev avverte il disagio che la muove, sente che ella sarebbe disposta a rinunciare a tutte le sue ricchezze pur di tornare a quei momenti. Lei si ostina a nascondere la propria femminilità dietro (false) virtù e vizi maschili; ribadisce il suo impegno politico definendosi socialista e accusa Ivan di non avere alcun coraggio a dare la libertà ai propri servi. Lui, per la prima volta, come un protagonista dei suoi romanzi, si sente un uomo di troppo: un giovane colto, di buoni sentimenti, la cui lingua è maturata sotto il segno di Karamzìn (sentimentalismo di fine settecento). Egli è abituato a raccontare la vita ma non a viverla pienamente, a riflettere senza poter agire efficacemente. Già da questa sequenza possiamo già individuare i segni del rapporto amore – odio che Zulawski nutre verso la cultura russa, rievocando nello spirito più che nella lettera il finale dell'Evgenij Onegin di Puškin. Un mondo sta finendo. Un mondo fatto non solo di ricevimenti, letture vespertine, scambi di idee ma anche piccoli cimiteri di campagna, serve dall'animo materno, passeggiate contemplative. Nel corso della pellicola Zulawski porta avanti senza riserve la consueta poetica del paradosso, frustrando puntualmente le aspettative dello spettatore: fa sì che i personaggi si annuncino quali esempi romantici di nobiltà e, poco dopo, sarcastico, ribalta il messaggio in "non resta altro che – sic! – banchettare e crogiolarsi al sole del pomeriggio". Ed è questo che in pratica fanno i convitati di madame Sand: sovente mangiano con avidità le pietanze più elaborate, ammazzano il tempo discorrendo sull'atto terroristico quale unica testimonianza necessaria di rivoluzione (dibattiti prolissi ed assurdi, simili agli agoni verbali della nobiltà di provincia nei racconti di Gogol'). Solo un personaggio si presenta (nel prologo) in modo diverso, mentre ascolta rapita il Preludio in mi minore, Op.28 n.4: "Je t'aime, mon amour". Solange (Sophie Marceau nella sua migliore interpretazione) è forse l'unica ad amare veramente Fryderyk Chopin (che ha le sembianze emaciate e diafane di Janusz Olejniczak, autentico pianista). Lo ascolta, lo stuzzica con giochi infantili e, allo stesso tempo, si avvicina alla poesia del suo paese, alla sua lingua, alla sua musica.
A questo proposito, la selezione di brani effettuata dal regista per la colonna sonora non è affatto scontata. Anziché ricorrere a un'antologia di facile presa che poteva includere pezzi quali la Polacca Op.53 (Eroica), il Notturno Op.9 n.2 oppure lo Studio Op. 10 n.3 (Tristesse), Zulawski preferisce esplorare quelle che Marco Beghelli ha definito "le due Polonie di Chopin": la prima è quella dell'Episodio Tragico, del Sacrificio, dello Spirito di Abnegazione (mentre compone occasionalmente – complice lo scodinzolio di un cane – il Valzer in re bemolle magg. Op. 64 n.1 l'esecuzione "degenera" nello Studio in do min. Op.10 n.12 noto anche come La Caduta di Varsavia. Oppure la Polacca Op.44 che rievoca la battaglia di Grochow del febbraio 1831, quando i polacchi si oppongono con successo, momentaneamente, all'avanzata dell'esercito russo). La seconda è quella degli affetti, della famiglia, delle feste popolari rielaborata attraverso alcune Mazurke oppure mediante brani brillanti o "ad effetto" quali i Valzer 1 – 2 – 3 Op.64 ma soprattutto la Barcarola Op.60; scrive Nietzsche nel secondo volume dell' Umano troppo umano – Parte IIa, Afor. 159: "Quasi tutte le situazioni e i modi di vivere hanno un momento beato. Questo i buoni artisti sanno tirare fuori. Possiede un momento simile persino la vita sulla spiaggia, così tediosa, sporca, malsana, dipanatosi vicino alla gentaglia più chiassosa e avida; nella Barcarola Chopin ha messo in musica questo beato momento in modo tale da invogliare persino gli dèi a giacere per lunghe sere d'estate su una barca". E' davvero incredibile! Sembra che stia descrivendo alla perfezione l'atmosfera della seconda parte del film di Zulawski: una sorta di "scherzo in rosso maggiore" danzato da spettri e demoni silvestri lungo i corridoi della vasta dimora, nella cucine, nel giardino … e intorno all'artista morente mentre dedica a sé stesso la Marcia Funebre (dalla Sonata Op.35 in si bemolle minore). Questa alchimia tra realtà e fantasia trova il suo apice nell'officio di Maurice Sand (Benoît Lepecq). Nichilista, dandy "wildiano", talentuoso creatore di marionette, resta il personaggio più affascinante; nel tratteggiarlo il regista ha probabilmente tenuto conto del personaggio del burattinaio Alexandre Fabbri nel coevo La Double vie de Véronique (1991) del compatriota Krzysztof Kieslowski. Sarebbe, a proposito, interessante approfondire il ruolo che la marionetta riveste nella cultura polacca ma, purtroppo non dispongo di prove sufficienti per argomentare il problema in questo intervento. Al momento, posso solo provare ad accendere una spia analitica, sottolineare questa coincidenza non soltanto formale ma anche tematica. Certo, per Kieslowski la rappresentazione teatrale è un'allegoria dell'imprevedibilità dell'esistenza terrena: la marionetta sta alla persona come il corpo sta all'anima (la sequenza del teatrino termina con una resurrezione); un'allegoria analoga è rintracciabile anche ne La Note Bleue quando Auguste Clésinger (Aurélien Recoing), un misterioso scultore, inizia Solange al mistero dell'atto creativo, rammaricandosi di non avere la facoltà di infondere alla creta un soffio vitale ma l'affinità tra i due autori non finisce qui. Nel finale i convitati (eccetto Chopin e Aurore) si riuniscono per una recita surreale alla quale partecipano anche Corambé e Demorgogon (Clément Harari), due entità dionisiache. I primi, brandendo ciascuno una marionetta fabbricata da Maurice, la quale riproduce fedelmente le proprie sembianze, interpretano loro stessi e, senza una spiegazione logica, rivelano eventi futuri (volgendo lo sguardo in macchina). Per questo secolo il tempo si è fermato. Come nel dipinto di Delacroix La morte di Sardanapalo, che appare fugacemente, i falsi sovrani si annullano nel vuoto con il lusso intorno, nascondendo le lacrime nel sorriso, la pochezza nell'immaginazione.
Il Chopin cupo e apatico di Zulawski, che trabocca di musica anche nella morte, ha creato non poche discussioni in patria. Apprezzato di più in Inghilterra e sconosciuto in Italia (prima dell'edizione speciale di Gabrielle Lucantonio, il film fu visto e recensito solo da Paolo Mereghetti, il quale, sul di dizionario omonimo, parla di "aneddotica scadente, banale misoginia, tentativo di imbastire una specie di Sogno di una notte di mezza estate"). Parafrasando una battuta della piéce Amadeus di Peter Schaffer, il film di Zulawski può essere volgare ma la musica di Chopin non lo è affatto. Infatti "cade" sullo spettatore con tutta la sua bellezza discreta. Non sembra possedere la superbia di elevarlo, piuttosto lo accompagna senza, però, abbassarsi del tutto al grado della materia. Lo richiama alla determinatezza, a "trattenere armonicamente" il caos dentro di sé. Come George Sand possiamo adagiarci sul pianoforte, perderci nel Notturno in do diesis minore fino alla nota blu. Al silenzio. Con dignità.
Giordano Giannini
Topics: Cinema's Nook, MUSIC | No Comments »
Comments